Vietnamese coffee exports to Germany: Within the framework of the national program on trade promotion 2022, the Trade Office – Embassy of Vietnam in Germany has cooperated with the Vietnam Coffee and Cocoa Association (VICOFA) and the German Coffee Association (DKV), Neumann Kaffee Group successfully organized a promotion program in the field of coffee for Vietnamese coffee exporters from October 29 to November 1 in Germany.
In Hamburg, on November 1, 2022, the Workshop to connect Vietnamese coffee exporters with German coffee importers took place successfully at the headquarters of Neumann Kaffee Group.
Attending the seminar, the Vietnamese side included Mr. Bui Vuong Anh, Commercial Counselor, Vietnam Trade Office in Germany; Ms. Nguyen Thi Thu Thuy, Vietnam Coffee and Cocoa Association and representatives of Vietnamese coffee exporters such as G20 Coffee, Helena Coffee Vietnam…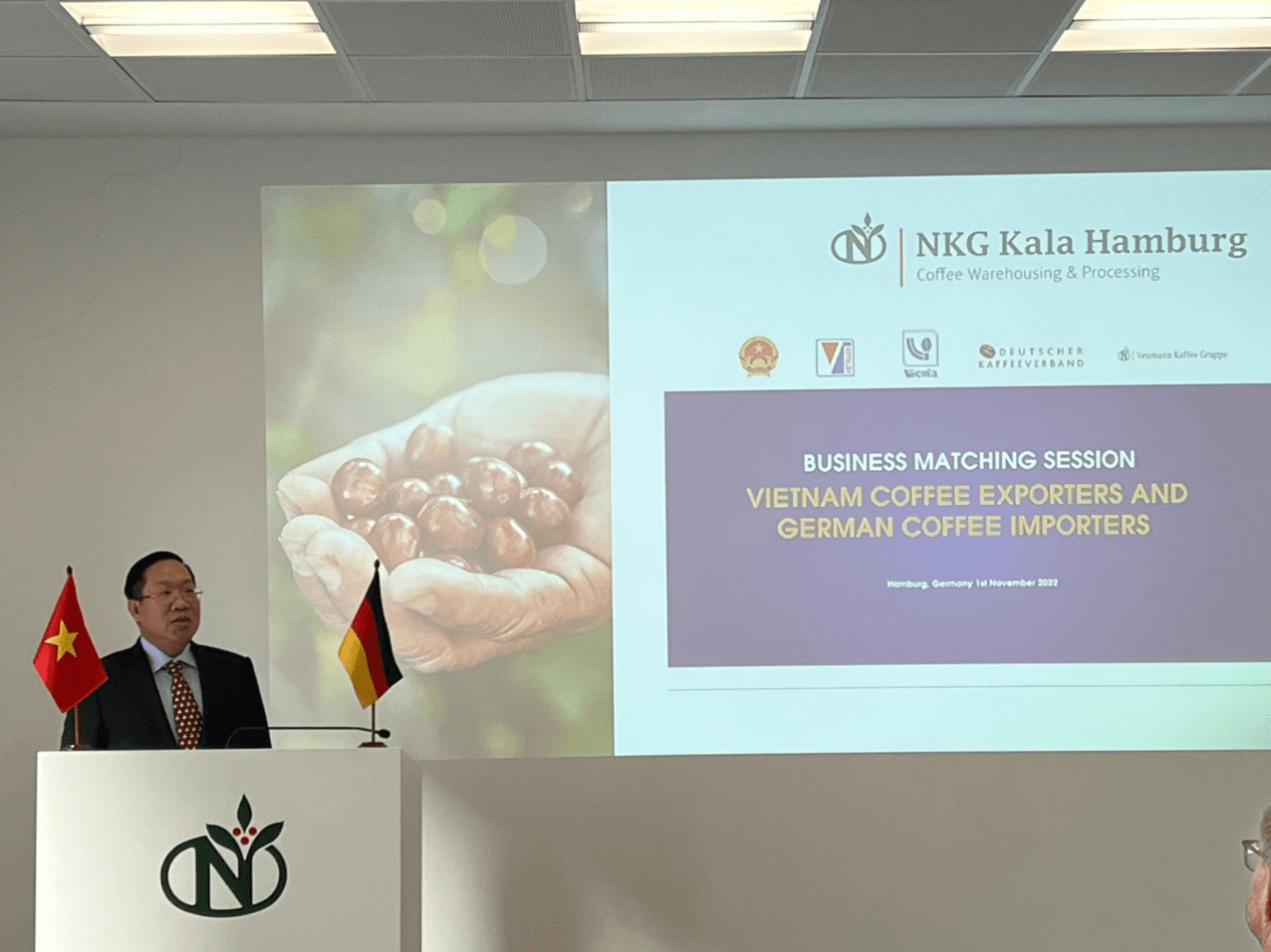 On the German side, participants included Mr. Holger Preibisch, Chairman of the German Coffee Association; Mr. Nicolaus Fallmeier, Neumann Kaffee Group; Mr. Christian Timm, Deputy Managing Director of NKG Kala Hamburg and representatives of some German coffee importers.
Speaking at the opening of the Workshop, Mr. Bui Vuong Anh, Commercial Counselor, shared with businesses of both sides about economic cooperation frameworks between Vietnam and Germany, specifically the Joint Committee on Economic Cooperation (UBHH) and the EVFTA Trade Agreement.
These are essential cooperation frameworks, helping businesses make the most of the benefits from the EVFTA and UBHH to boost coffee exports to the German and EU markets.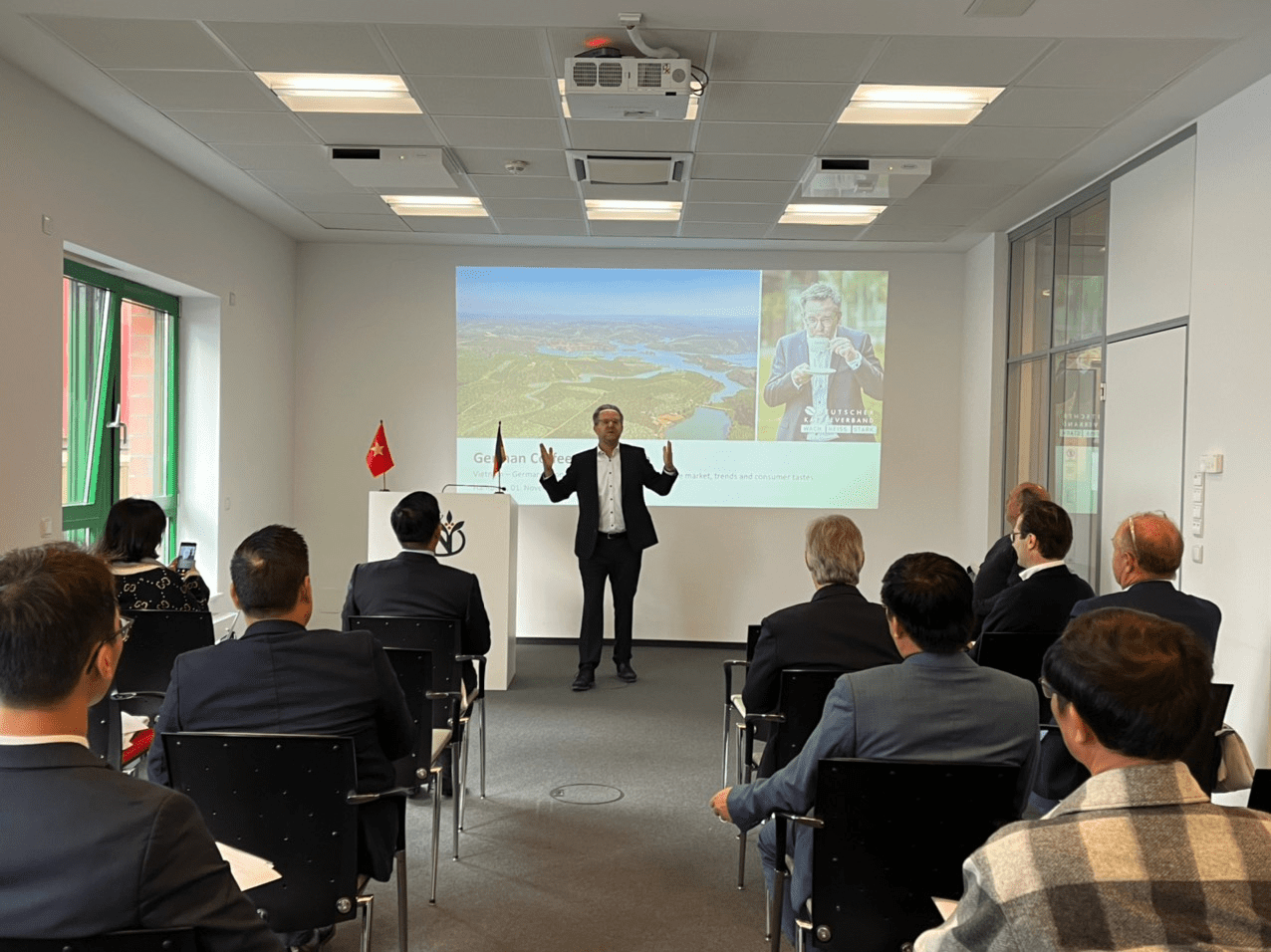 Sharing about Germany's coffee needs and tastes, the Chairman of the German Coffee Association, Mr. Holger Preibisch, said Germany would import 1.1 million tons of green coffee beans in 2021, and Vietnam is an exporter of coffee.
Germany's second largest coffee market after Brazil enters Germany, accounting for 18.63% of Germany's coffee import market share. Germany's coffee import turnover from Vietnam has always remained stable, accounting for a market share of 18 to 25% of Germany's total coffee imports.
He added that Germans use coffee daily, with 72.7% drinking at home, 7.9% at work, and 5.2% at the house of friends and relatives… Each German consumes 169 liters of coffee yearly, more than German beer (90 liters/per year).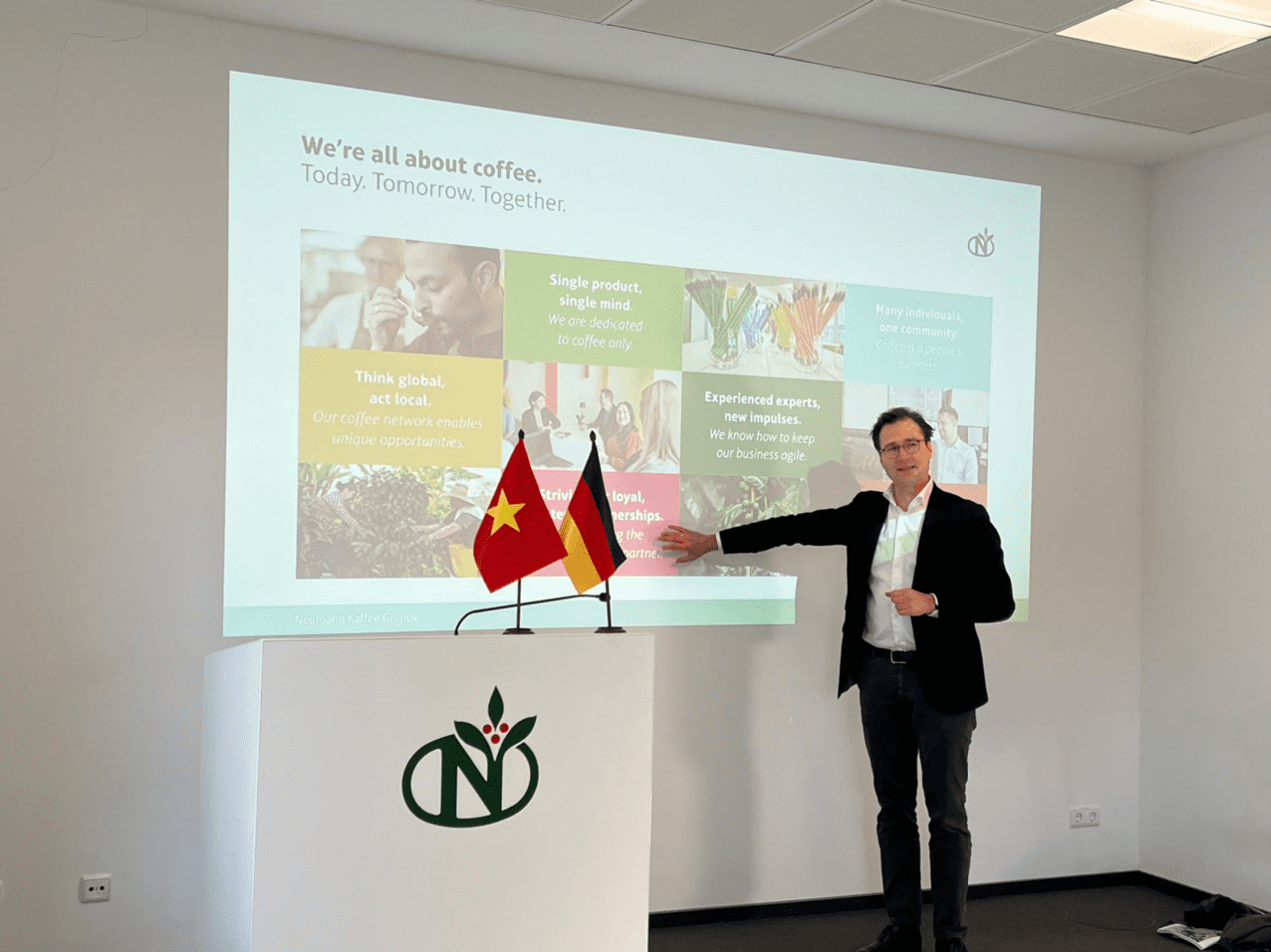 Representative of the Vietnam Cocoa Coffee Association, Ms. Nguyen Thi Thu Thuy, introduced the production and supply of Vietnamese coffee, export markets, and sustainable development goals for coffee products. Vietnamese coffee.
The association presents businesses about Vietnam Coffee Day 2022, which will be held from December 9-11 in Hanoi, and is looking forward to German coffee businesses attending and connecting with Vietnamese coffee businesses.
Within the program's framework, the Vietnamese coffee delegation surveyed and visited the NKG Kala Hamburg coffee processing and storage area of ​​Neumann Kaffee Group.
Neumann Kaffee is the world's leading supplier of green coffee, operating in the fields of cultivation and farm management, processing and quality grading, and coffee import and export… NKG has more than 50 Subsidiaries in 26 countries that produce and consume coffee. In Vietnam, NKG has a Neumann Gruppe Vietnam company and a coffee processing factory for export in the An Phuoc industrial zone, Long Thanh district, Dong Nai.
After the seminar session, the trade program took place successfully with German and Vietnamese enterprises' participation. The parties exchanged information and specific needs and learned about business capabilities toward more profound and broader cooperation in coffee production and export.
It can be said that the coffee export promotion program of the Vietnam Coffee and Cocoa Association delegation has achieved good results. The board had the opportunity to meet, exchange, and trade with a large German coffee importer, the German Coffee Association;
Learn more about the professional and modern German coffee processing, preservation, and storage process that helps businesses improve the quality of coffee products and boost export turnover to the German market. in particular and the EU in general, taking advantage of the incentives provided by the EVFTA Agreement.